Now that the weather has finally started cooling dwon I'm in full baking mode! I love apple tarts all year round but especially during the holiday season. Full apple pies are more involved with the cooking of the apples and etc so these apple tarts are my shortcut to get a similar dessert onto the table. I thought I'd mix things up and baked mini apple tarts using mason jar lids! The kids were so excited to see these mini apple tarts that they gobbled them all up after early dismissal from school today. They were the perfect individual size and would be perfect to add to your holiday menu. There are so many different flavors you could make and these would make great gifts too.
Mini Apple Tarts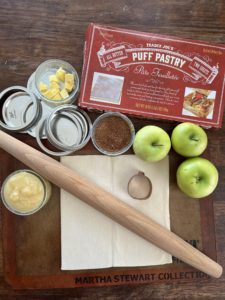 Instructions
What To Do

 Roll out puff pastry dough and use mason jar ring as a guide.  Cut about 1-2" extra around.
Flip lid so shiny side is up inside the mason jar ring then place pastry dough inside.
Crimp edges or push up to the rim.  Repeat 6-8 times.
Dice 2 granny smith apples.  (Will need 2 cups).
In medium mixing bowl, combine diced apples, brown sugar, cinnamon, salt and melted butter.
Spoon 2 heaping tbsp into each mini tart.
Cover with remaining pastry dough in whatever design you like.
Bake for 20 mins @400f.
Let cool for 10 mins then push the lid up to help pop out your mini apple tarts.
Enjoy with ice cream, whipped cream and/or coffee/tea!
apple tarts, mason jar lid tart, mini apple tarts, dessert ideas, puff pastry, quick and easy recipe